By the Waters of Babylon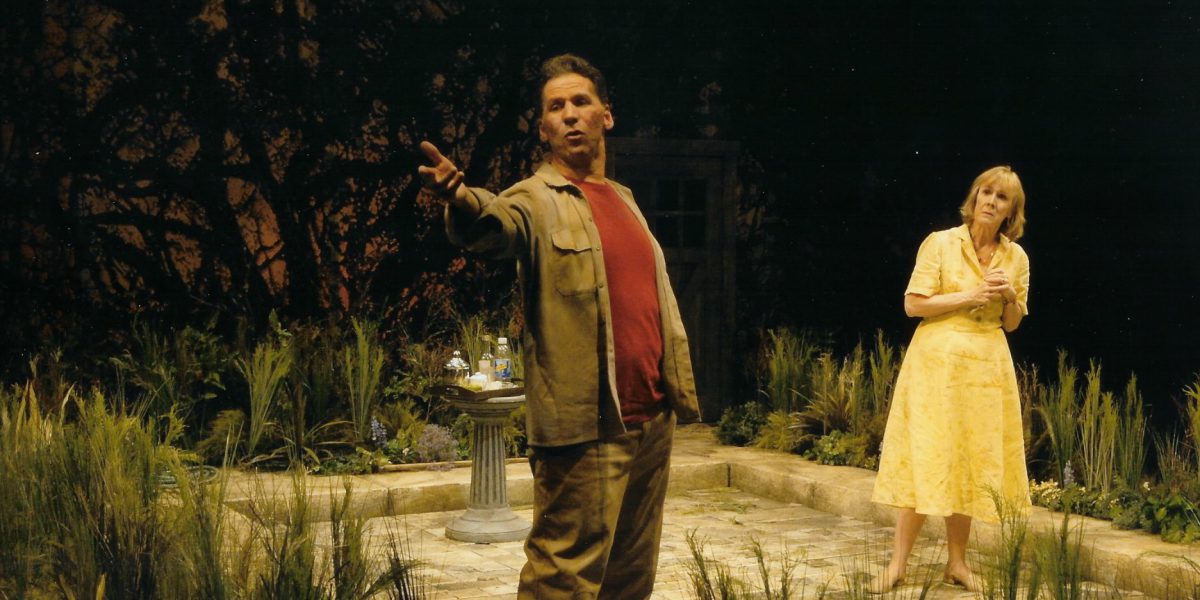 Synopsis
Catherine is a professor's widow, living as a virtual recluse in Austin, TX. Arturo is a Cuban refugee, a writer turned gardener, summoned to tame Catherine's chaotic back yard. Both are exiles, haunted by the ghosts of the past. Through an intense afternoon and evening, Arturo and Catherine will embark on a journey through their deepest fears and desires, and ultimately find themselves on the shore of a new beginning.
Production History
BY THE WATERS OF BABYLON was commissioned by the Oregon Shakespeare Festival, and premiered there in 2005. It was produced in Los Angeles at The Geffen Playhouse, starring Demian Bichir and Shannon Cochran from October 28th, 2008 – December 7th, 2009.
BY THE WATERS OF BABYLON played at Seattle Repertory Theatre from January 31 – March 2nd, 2008. It was directed by Richard Seyd, and starred Suzanne Bouchard and Armando Duran. Set design by Michael Ganio. Costume design by Frances Kenny. Lighting design by York Kennedy. Sound design by Chris Walker. Choreography by Olivier Weavers. Projection design by Pete Bjordhal.
Reviews
It is rare to find a genuine, all-out romance among contemporary plays. These days, cynicism tends to trump ardor. Poetic yearnings of the heart can seem hopelessly naive and shopworn in today's dating-mating-divorcing marketplace. In "By the Waters of Babylon," Seattle author Robert Schenkkan aims to buck that trend with a fervently humane Valentine to midlife, soul-scarred love.  Powerful writing… Personal and political, self-castigating, rueful, yearning is delivered faultlessly….with quiet tremors of humor, regret and anger.Seattle Times- Misha Berson
Music is the condition to which Schenkkan's play frequently aspires. Soaring lyrical fantasias provide his characters with an escape from their respective plights of bitter alienation. His script weaves together a diversity of discourses: rambling small talk, snappy one-liners, confessional monologues, and those rapturous poetic flights. His theme is nothing less than the possibility of redemption by both love and art.Crosscut – Thomas May
Images from OSF, Geffen, and Seattle Repertory Theater.